FREE Help I've Got A New Puppy Survival Guide
Sign up to our mailing list and we will give you all you need to know on making your first 7 days count. Includes sleep, feeding, toilet training, chewing and much more!
I'm bringing my puppy home. What 6 things should I have?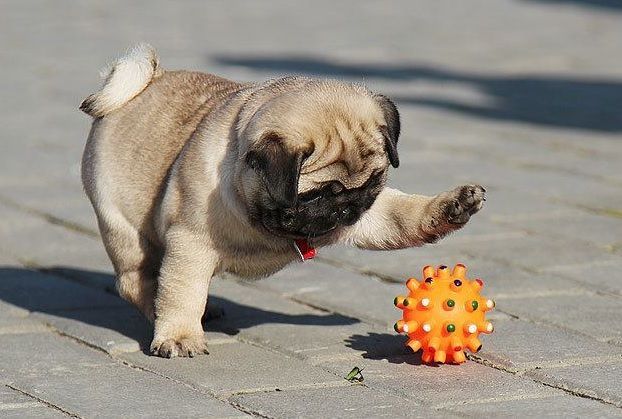 Bringing your puppy home can be stressful and exciting but this is what you'll definitely need.
So, you have chosen your puppy – congratulations on your new family member!!
You are waiting in anticipation for the day you can bring them home, so cute and cuddly. But what will you need?
Here is our list of the top 6 items you need to purchase ready for when your puppy comes through the front door.
If you need a more in-depth guide to bringing a puppy into the home, please take a look at our "Help! I've got a New Puppy!" ebook
Puppies learn best with a small degree of confinement. Having a safe place for your puppy will speed up your ability to train your puppy in these key skills:
toilet training
loss of biting
separation training
But there is a rule – DO NOT SHUT THE DOOR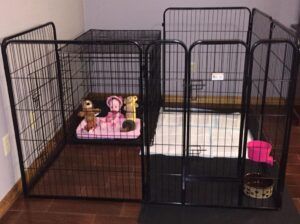 A safe space is not the same as being shut in somewhere. We want your puppy to choose this space as good things happen there.
This is an ideal set up. It has a sleeping area, a separate feeding area and a toileting area away from both of those for night times
It will take a couple of weeks for your puppy to get used to this area
For more guidance on introducing a crate, please watch excellent video training here
Pop in some vet bed for sleeping on and a soft blanket to snuggle into. Some puppies find a heart beat toy really comforting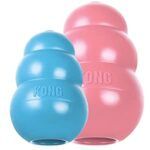 You can never have too many Kongs. Ideal for feeding and chewing , this can become your puppys' best friend. Kongs are shaped for ideal chewing and stuffing. Made from safety rubber, they are attractive to both puppies and odler dogs alike. Always go for a bigger size for safety.
Choose pink or blue for puppy teeth and upgrade to red when their adult teeth start erupting.
Kongs can also be tied to sturdy items so your puppy settles down to chew and allows you to start early separation training by moving around the house, knowing they are happily occupied.
To learn how to introduce your puppy to a Kong, download our printable infographic here.
3. Collar and Identification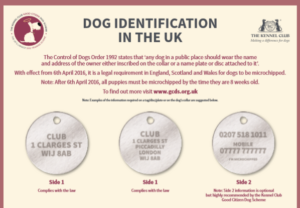 Once you start taking your puppy out, they must, by law, wear identification even if they are microchipped. See picture for what should go on a tag. Please do not put your puppys' name on your tag – it makes them easier to dognap.
Collars and tags can be worrying to some puppies so it is worth getting them used to this as soon as you have them home. Make sure the tag doesn't knock against metal bowls and frighten your puppy and be sure to remove them before leaving them overnight or for longer periods in the day.
The best way is to pop the collar on immediately before you feed your puppy so it forms a positive association and take it off before your puppy starts pawing or biting at it.
There are so many puppy toys on the market, it can be totally overwhelming to know what is best to buy.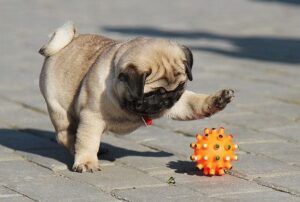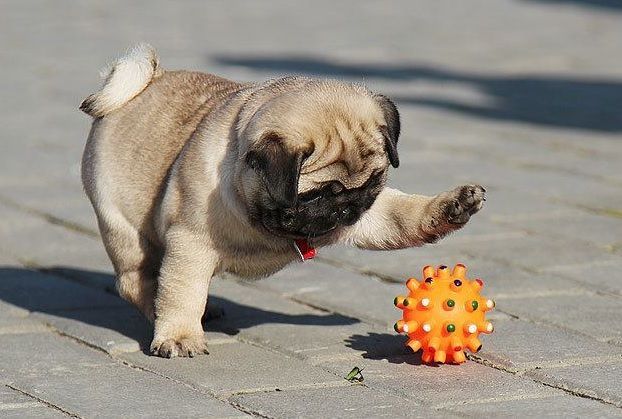 We recommend:
toys of different textures and shapes for those puppy mouths to explore
safe toys without bits that can come off such as eyes and squeakers
toys that you can put food in
toys that are large enough for you to hold one end whilst your puppy has the other end
toys which can be soaked and frozen
Be sure to wash and rotate toys every few days to avoid boredom and make sure toys are lying around if you don't want your puppy chewing shoes or the remote control.
Use your recycling for simple ideas of free toys you can make for your puppy. Give the children a competition or make a noise box for your puppy to explore. Have a look at our interactive feeding video for ideas.
5. Harness and thin house lead
We recommend harnesses for new puppies to learn to walk but just like a collar, they take some getting used to for your puppy.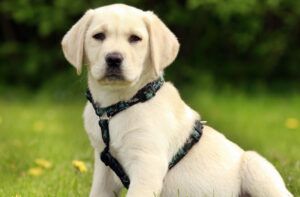 We recommend Perfect Fit or T-touch harnesses
A light house line is better for your puppy at this stage than a heavier short lead. You can use it for when you take them out to the toilet or pop it on when you are playing to form a positive association. Click here to purchase.
Please watch this video on introducing a harness for more information.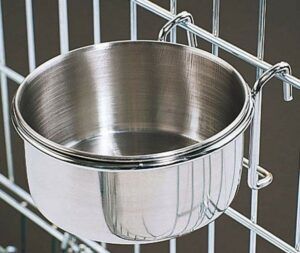 Puppies need access to clean, cool water, even when left overnight. Some puppies will find great delight in paddling in it or throwing it all over the floor.
To avoid this, think about raising the bowl slightly or having one which clips to the side of your pen or crate so your puppy can drink but not stand in it!!
What else do I need for my puppy?
Now you have an idea of the 6 things you need to purchase for your puppy before you bring them home. But don't worry, if you need more information on surviving the first 7 days with your puppy, please download our ebook from our store. It's packed full of help and advice from toilet training and those first few nights to introducing older dogs and how to cope with puppies and children.
Now, you have everything you need, minus food which your breeder should send you home with, good luck and welcome home puppy!